Emergency Service Simulation
Category:
Educational and Simulation Labs
,,, SubCategory:
Emergency Service Simulation
Company:
Immersive interactive
---
Description
Emergency Service Simulation
The Emergency Services have to work in highly stressful, chaotic environments. It's important that you prepare your students for the reality of their future careers. With the help of our innovative simulation technology, you can do just that. Recreate the experience of working anywhere from an to RTCs to a building site with realistic sights, sounds and smells.
Enhance realism and advance learning through a fully immersive simulation training room. Immersive rooms allow your students to train in a virtual environment as a team without the need for headsets. Place your candidates in highly-pressurised scenarios with the peace of mind that lives are not at stake and where learning by discovery can take place.



A Complete Solution
Immersive Interactive provides a complete 360-degree solution from initial site survey to lifetime training and support. Our expert team are always on hand to answer any queries you may have, throughout any stage of the process. With our in-house software, you're able to add, create and manage your own content from a tablet with ease any time, anywhere.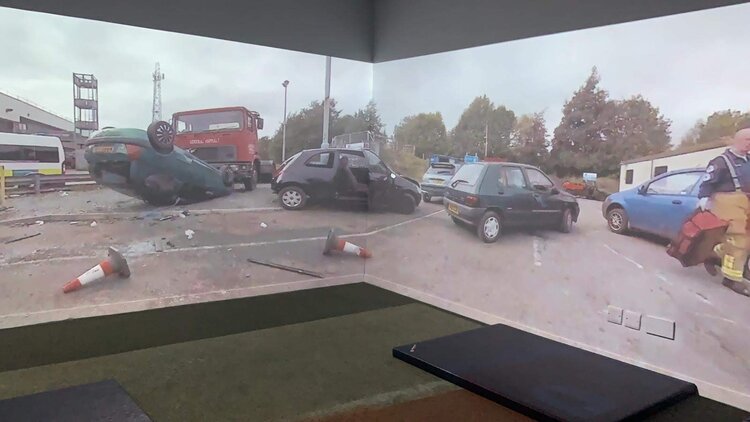 Example Scenarios
River
Create relevant rural environments filled with detail.

Hotspots
Augment the environments with information, video and image popups.


Build your simulation environment
Our expert team will assist you in selecting, preparing and building your interactive medical training room. Whatever your space or size, we guarantee that we can provide the best immersive solution for you. If you're looking for a non-permanent installation, we are able to set up mobile spaces for almost any environment. Mobile installations are great for medical conferences, university lectures and first aid training courses.